Services at Acupuncture Energetics, PLLC in Winston-Salem, NC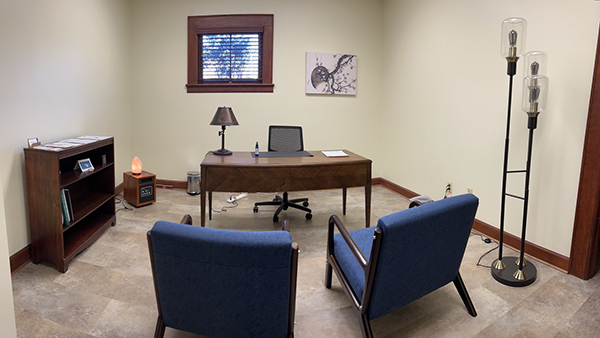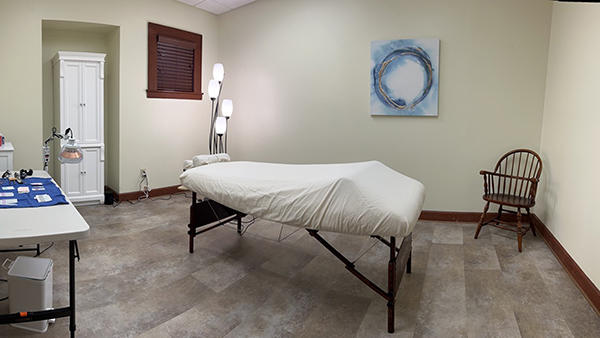 Acupuncture Intake
Expect your first visit to take up to 2 hours as we get to know each other, review your medical history and treatment goals, and perform a detailed exam. You will receive a treatment on your first visit, generally involving front and back points in two separate steps. Your first acupuncture treatment will typically address general constitutional findings. It is important to enhance the flow of blood and energy though the body before diving too deep into specific concerns. Many people begin to feel a boost in their energy and spirits with this very first step.
Just a note: Please have your Intake Form completed at least 24 hours before your appointment so that we can maximize time available for your treatment.
Group Acupuncture After Hours
Our After Hours sessions are held beside the warm glow of a stone fireplace with soft music and gentle lighting to take you into your evening on a fresh note.  This group features a treatment known as "Acudetox", known to support feelings of inner calm, serenity, and relaxation and to enhance mental clarity, energy levels, and an overall sense of well-being.  Experiencing the treatment in a group amplifies the impact of this healing therapy.
There is no evaluation necessary before this treatment.  Five tiny, sterile, single use, pre-packaged needles are inserted into a standardized set of ear points. The needles remain in place for about 20 minutes. During this time, you are free to meditate, close your eyes, or drift off completely. We only ask that you avoid disturbing your neighbors and leave all devices outside or turned off.  Capacity is limited, so please register in advance to reserve one of our rockers or zero-gravity chairs.  Sliding scale payment is available, in the interest of making the therapy available to all.
Group Acupuncture "Lunch Buffet"
Group treatments have caught on as a way to make acupuncture accessible to more people.  Participants enjoy the communal aspect of the experience, and the focused nature of the treatment means a shorter session that can fit readily into most peoples' busy schedules.  Treating multiple people in the same room, at the same time also means cost savings for you!
The ear has many powerful points that can help balance the nervous system, process strong emotions, promote restorative sleep, alleviate pain, even curb cravings.  Stimulation of ear points can support your efforts to balance your life in many areas.  At the Lunch Buffet session, we offer treatments directed at concerns like weight management, back pain, allergies, smoking cessation, headache, and anxiety, to name just a few.  Options for treatment:
Needling:  Five or six tiny, sterile, single-use needles are placed at therapeutic spots in the ears according to a prescribed formula.  You can relax in a rocker or zero-gravity chair for about 20 minutes while the needles do their work.
Semi-permanent Therapy with Ear seeds/tacks:  Small seeds or tiny press tacks (flat-headed needles), both on adhesive backing, can be placed on the influential points as a take-home therapy.  Both seeds and tacks can stay in place for up to 5 days.
Needling + Ear seeds/tacks:  Follow-up a needling treatment with semi-permanent therapy to reinforce its strength.  This is a great way to kickstart any new program!
Note:  No individual assessment is provided before the session.  Treatments are based on participants' self-identified concerns and goals.  Therapies are intended as an adjunct to your health care efforts.  As with any therapy, results are not guaranteed.
Acupuncture Follow-up
At follow-up visits, we start by checking in on your progress. We perform an exam at each appointment as this guides the choice of treatment points. Expect a front and back treatment with increased focus on your specific concerns.
Acupuncture with Hands-on Healing
For patients interested in a deeper energetic healing experience, Reiki and/or CranioSacral Therapy (CST) can be layered onto any follow-up session. (This is not available with the initial "Acupuncture Intake" appointment.)
Reiki is a Japanese form of hands-on energy healing that can promote deep relaxation, calm anxiety and stress, and boost the body's natural healing capabilities. Reiki is a safe and gentle therapy available now in some hospital and healthcare settings as a complement to standard medical treatments. Not specific to any ailment or condition, Reiki can encourage healing on multiple levels: emotional, physical, mental, and spiritual.
CST is a healing technique developed by John E. Upledger, an Osteopath, that can be particularly helpful with headaches, neck pain, and stress-related conditions.  Restrictions in the connective tissue are released through gentle manipulation, facilitating a state of deep relaxation.  This brings the body's natural rhythms into harmony, restoring and strengthening its ability to self-regulate and heal. 
Needle-Free Balancing Therapy
Not ready for needles?  Try a balancing massage designed to promote flow of Qi and Blood.  Based in the traditions of Chinese Medicine, this therapeutic massage is designed to open up blockages within the meridians, freeing up energy and restoring your body to a harmonious state.  Learn how to use this technique at home to keep your energy flowing smoothly!
Free Initial Consultation
Not sure if acupuncture is right for you?  Come in and discuss your situation with the doctor at no charge.  Use the "Contact" button to arrange an appointment.
Seniors and Veterans: 15% Off Single Service or 5% Off Package
We extend appointments identical in time, attention, and detail to those described above at a discount to our "65-and-over" patients and veterans.  One discount per service, please.
Begin Your Health Journey Today